Facilities
Medicare Easy Claim and Online Claiming Services
Homeworld Helensvale Medical Centre offers Medicare Easyclaim and Online Services for fast and convenient rebates.
How does it work?
We will ask you if you would like us to electronically send your claim. Once you have given your consent we will transmit your claim on the spot and arrange for the immediate processing of your rebate.
SO NOW YOU CAN SEE YOUR DOCTOR AND MEDICARE AT THE SAME TIME .
Medicare refunds are also still available from Medicare offices in
Ashmore and Southport upon presentation of a current Medicare card.
We have EFTPOS facilities, and accept Mastercard, Visa,. We also accept cheques.
Waiting Area Facilities
Homeworld Helensvale Medical Centre has wheelchair access and a disabled parking area in front of the surgery. Please see one of our staff if you have special requirements.
Children's books are provided in the waiting room and babies change facilities are available in the restroom.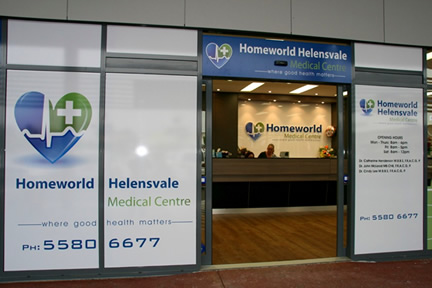 A television is provided. Stands in the waiting room contain pamphlets on a variety of health issues and we encourage patients to help themselves. Patient information is displayed on electonic display screens.
Chilled spring water is provided in the waiting room
Interpreter Services
We have access to interpreter services if a patient requires help with communication. Please see our reception staff.